CPBIS News
Understanding Online Pulpwood Auctions
Back in April 2004, we reported that CPBIS had awarded a fellowship to a talented graduate student in Georgia Tech's School of Industrial and Systems Engineering. The subject of her dissertation research was a study of how mill managers and logging companies can use the Internet to effectively transact pulpwood. That student, Ms. (now Dr.) Kendra Taylor, went on to successfully complete her studies on that topic, earning the Ph.D. degree in Industrial and Systems Engineering and subsequently joining Booz Allen Hamilton as a Senior Consultant.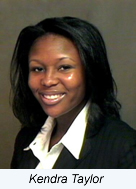 Kendra will reveal the results of her research in a presentation at one of the CPBIS-hosted sessions at the TAPPI Engineering, Pulping and Environ-mental (EPE) Conference in Jacksonville, FL, October 21-24, 2007. In a nutshell, she used a regression approach to study factors that affect the degree of success of online reverse auctions, uncovering several significant factors and providing insight into how the Internet might be more effectively used by mill managers for pulpwood procurement. As firms decrease their timberland holdings, they become more dependent on suppliers of domestic timber when the need for virgin fiber arises. Online auctions provide a means for them to conveniently meet that need, so this research is particularly timely.

Kendra's paper, which was co-authored by Paul Griffin and Joel Sokol, both of Georgia Tech, is titled "Market Dynamics in Timber Procurement." If you are going to be at the EPE Conference, plan to attend her presentation on Tuesday, October 23 at 9:30 a.m.
---
About CPBIS: The Center for Paper Business and Industry Studies (CPBIS) is an internationally recognized academic research center providing business knowledge of relevance to the global forest products industry. The CPBIS is cosponsored by the Alfred P. Sloan Foundation, the Georgia Institute of Technology (Georgia Tech), and the Paper Industry.